Floorpan by KASTAMONU is one of the 5 largest wood processing companies in Europe. The Company has been operating since 1969 and is incorporated in HAYAT Holding. Advanced technologies and high quality gained the trust of millions of consumers around the world. Flooring materials comply with all international quality standards. The German quality certificate ED2020 guarantees a low formaldehyde percentage.
Laminate flooring to suit any taste
Floorpan products range includes more than 100 types of laminate flooring to suite any interior and taste.
Quality control
Floorpan laboratories regularly perform quality tests of products for compliance with Turkish, Russian and EU regulations. KASTAMONU enterprises have an integrated quality management system that complies with ISO9001, ISO14001, OHSAS18001.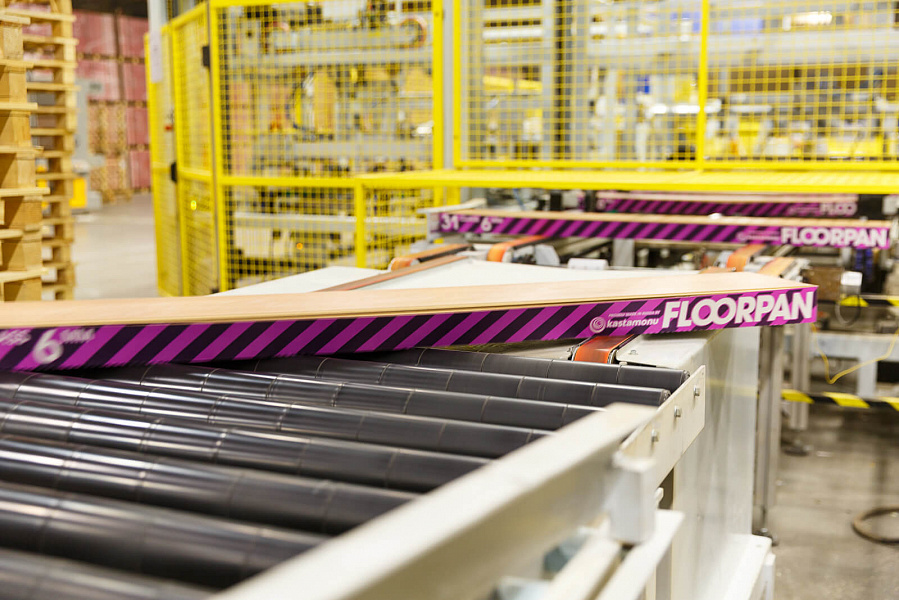 Grade 34 laminate floorings
We expanded our product portfolio with laminate flooring having grade 34 wear resistance first in Uzbekistan. The first batches of products are already on sale. The new collection called Ultramarine consists of four decors. The Ultramarine collection is certified for two parameters: resistance to abrasion and shock in contrast to the European standard, which regulates only the abrasion.
Grade 34 laminate floorings have a number of significant advantages over Grade 31, Grade 32, and Grade 33, which are extremely important when selecting flooring for commercial spaces such as offices, shopping malls, airports, etc. Accordingly, during a taber test, which is used to assess the abrasion of the laminate flooring, grade 34 demonstrates 8,500 disk rotations, while grade 33 demonstrates 6,000 rotations. This indicates increased wear resistance and a longer service life of grade 34 laminate flooring. An additional strength of the laminate flooring is achieved by more stringent requirements for dimensional stability.
Grade 34 laminate flooring also wins in such significant parameters as shock resistance and resistance to abrasion with a chair roller, which exceeds 25,000 cycles. Besides, color, shine and pattern of the surface will remain unchanged if tea, coffee or even acetone gets on the flooring.
Address: 173, Furkat str., Chilanzar, Tashkent. Landmark: before reaching NEXT shopping mall, T junction, Beshyogoch
Phone: +99871 202 00 02
www.floorpan.uz